Veeam Smart Plug-in VMWare
The Veeam Smart Plug-in for VMware maximizes your virtualisation outcomes and protects your investment in HP Operations Manager. The Veeam SPI provides distributed monitoring and management of the VMware infrastructure (vSphere and VI3) fully integrated into HP Operations Manager.
Virtual machine metrics such as CPU ready time, swapfile usage and balloon memory
ESX host hardware sensors such as fan speed, chassis temperature and power consumption
ESX hypervisor metrics such as storage I/O and latency, swapfile performance and datastore space
The Nexstor Approach
For over 15 years Nexstor has architected, implemented and supported best of breed data platforms which house the critical information that powers your business. 
Other products from this vendor
Veeam
Veeam Software, an Elite VMware Technology Alliance partner and a Microsoft managed partner, develops innovative products for virtual infrastructure management and data protection. Customers can reduce costs, minimize risks and fully realize the promise of virtualization with Veeam. Veeam has more than 57,000 customers worldwide.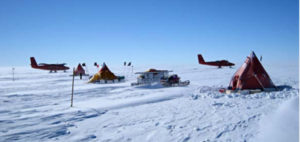 Click here to read the full case study. The Customer Formed in 1962, the British Antarctic Survey is ...